International Marketing
May 4, 2019
The International Marketing is the application of marketing principles to satisfy the varied needs and wants of different people residing across the national borders.
Simply, the International Marketing is to undertake the marketing activities in more than one nation. It is often called as Global Marketing, i.e. designing the marketing mix (viz. Product, price, place, promotion) worldwide and customizing it according to the preferences of different nation people.
The foremost decision that any company has to make is whether to go international or not, the company may not want to globalize because of its huge market share in the domestic market and do not want to learn the new laws and rules of the international market.
But however, there are following reasons that attract the organization to be global:
Increased Economies of Scale
High-profit opportunities in the international market than the domestic market
Huge Market Share
Elongated life of the product
Untapped International Market
How to Enter the International Market?
There are following ways through which companies can globalize: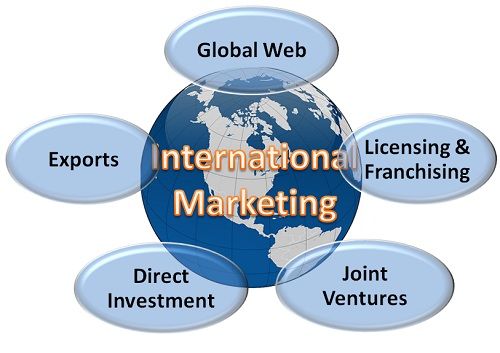 Exports

: The easiest way to enter the market is through exports that can be indirect or direct. In Indirect Exports, the trading companies are involved that facilitates the buying and selling of goods and services abroad, on the behalf of the companies.Whereas in Direct exports, the company itself manages to sell the goods and services abroad, by opting one of the following ways:
By setting Domestic based Export Department, working as an independent entity
Through Overseas sales branch, that carries out the promotional activities and facilitates sales and distribution.
The sales representatives traveling abroad
The distributors or agents in abroad working exclusively on the behalf of the company
Global web Strategy

: Nowadays, companies need not go to the international trade shows to show their products, they can very well create the awareness among the customers worldwide through an electronic media i.e. internet.Through the company website, customers can read the detailed information, generally written in different languages, about the product and can order online.
Licensing and Franchising: One of the ways to globalize is through licensing, wherein the domestic company issues the license to the foreign company to use the manufacturing process trademark, patent, name of the domestic company while facilitating the sales. In licensing, the domestic company has a less control over the licensee.

But, in the case of franchising, the domestic company enjoys the higher control as it allows the franchise to function on its behalf, and in line with the terms and conditions of the domestic company. MC Donalds, Dominos are the examples of franchising.
The companies go international with the objective to have an increased sales along with the huge market share. But certain things such as political, social, technological, cultural situations should be kept in mind while designing the marketing principles since these are different for the different nations.